T3R PROGRAMMABLE THERMOSTAT Manual / T3R THERMOSTAT User Guide
T3 PROGRAMMABLE THERMOSTAT Manual
Honeywell Homes T3, T3M & T3R PROGRAMMABLE THERMOSTAT
Contents
1 Screen and button overview
Screen and button overview /
Overzicht van schermen en knoppen /
Aperçu de l'écran et des boutons /
Bildschirm- und Schaltflächenübersicht /
Panoramica sullo schermo e sui pulsanti /
Resumen de pantalla y botones /
Resumo do ecrã e dos botões
2 Default Schedule
Standaard schema / Programmation par défaut /
Standardzeitplan / Programma predefinito /
Programa predeterminado / Programa padrão
3 Device Modes
Toestel Modus / Mode de fonctionnement / Betriebsarten des Geräts /
Modalità dispositivo / Modos de funcionamiento / Modos de operação
4 Temperature Override
Temperatuur overschrijven / Dérogation / Temperaturüberschreibung / Controllo
manuale temporaneo / Anulación del programa / Cancelamento do programa
5 Holiday Mode
Vakantiemodus / Mode vacances / Urlaubsmodus / Modalità
vacanza / Modo vacaciones / Modo de férias
6 Date and Time
Datum en tijd / Date et l'heure / Datum und Uhrzeit /
Data e ora / Fecha y hora / Data e hora
7 Keypad Lock
Toetsblokkering / Verrouillage du clavier / Tastensperre /
Blocco tastiera / Bloqueo de teclado / Bloqueio do teclado
Honeywell T3R Installation Manual
Honeywell T3 Installation Manual
Honeywell T3M Installation Manual
EN Quick Start Installation Guide
CZ Stručná úvodní instalační příručka
HR Kratki priručnik za postavljanje
HU Gyors telepítési útmutató
PL Skrócona Instrukcja instalacji
RO Ghid de instalare rapidă
SK Stručná príručka na inštaláciu
Note:
Must be installed by a competent person. To
ensure your safety make sure the mains power is
switched OFF before accessing wiring.
Instalaci musí provádět pouze kvalifikovaná
osoba. K zajištění bezpečnosti je před manipulací
s kabely nutné vypnout hlavní přívod elektrické
energie.
Postavljanje smije izvoditi samo kvalificirano
osoblje osoba. Radi sigurnosti prije rukovanjem
kabelom isključite glavni kabel za napajanje.
A beüzemelést csak szakértő szerelő végezheti.
A biztonsága érdekében győződjön meg róla,
hogy megfelelően áramtalanított a vezetékek
bekötése előtt.
Instalacja musi być wykonana przez
wykwalifikowaną osobę. Ze względów
bezpieczeństwa nie wolno manipulować
okablowaniem przed odłączeniem urządzenie od
zasilania.
Dispozitivul trebuie instalat de o persoană
calificată. Pentru siguranţa dvs., aveţi grijă ca
alimentarea cu energie electrică să fie OPRITĂ
înainte să umblaţi la fire.
Inštaláciu smie vykonať iba kvalifikovaná
osoba. Zabezpečte svoju bezpečnosť a pred
manipuláciou s káblami a elektrickým zapojením
sa uistite, že je sieťové napájanie vypnuté.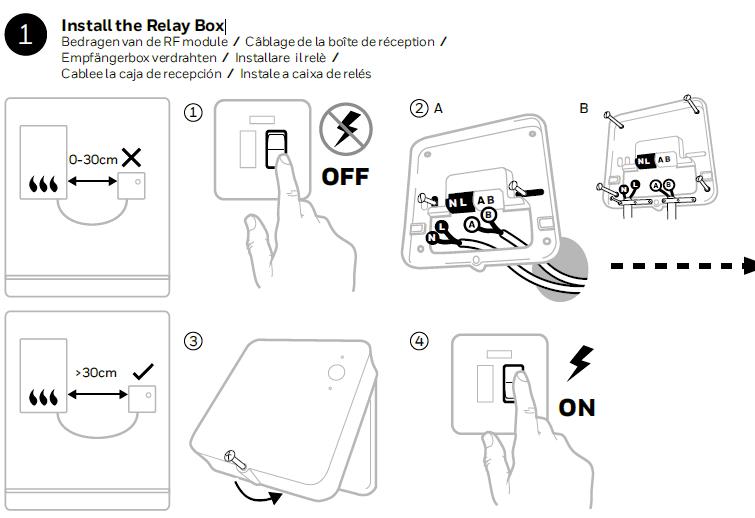 Install the Relay Box
Instalace releového modulu / Postavljanje relejnog modula /
A kazánvezérlő modul telepítése / Montaż modułu załączającego / Instalarea
modulului de releu wireless / Inštalácia reléového modulu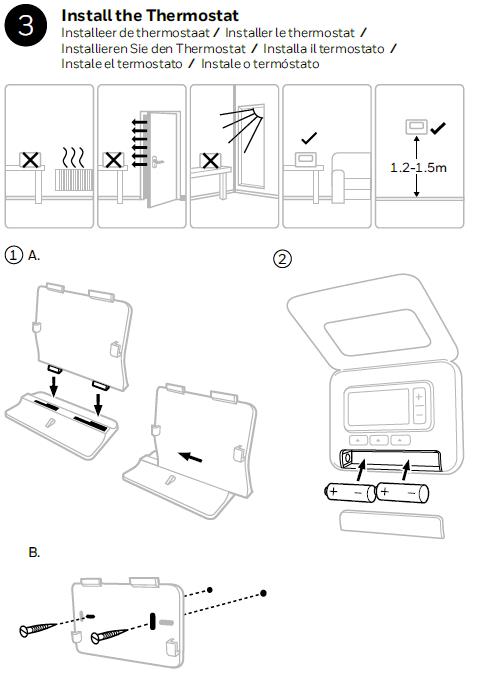 Install the Thermostat
Instalace termostatu / Postavljanje termostata /
A termosztát beüzemelése / Montaż termostatu /
Instalaţi termostatul / Inštalácia termostatu
Honeywell T3 Thermostat Troubleshooting
Honeywell T3R Thermostat Troubleshooting
Honeywell T3 Thermostat Troubleshooting
Troubleshooting
Řešení problémů / Rješavanje problema / Hibaelhárítás /
Rozwiązywanie problemów / Depanare / Riešenie problémov
10% battery power
Nabití baterie 10 % / Punjenje baterije 10 % /
10%-os elemfeszültség / 10% naładowania baterii /
Putere baterie 10% / Batéria nabitá na 10 %
+
Battery critical low
Kriticky nízký stav baterie / Kritično niska razina baterije /
Kritikus elemfeszültség / Krytyczny poziom naładowania baterii /
Putere baterie foarte scazute / Kriticky nízky stav batérie
+
Faulty sensor
Vadné čidlo / Neispravan senzor / Hibás érzékelő /
Wadliwy czujnik / Senzor defect / Chybný snímač
+
Wireless Signal Loss (T3R Only)
Ztráta bezdrátového signálu (pouze model T3R). /
Gubitak bežičnog signala (samo T3R)
Vezeték nélküli jel elvesztése (csak T3R) /
Utrata sygnału bezprzewodowego (tylko T3R) /
Pierderea semnal wireless (numai la T3R)
Honeywell T3 Thermostat Wiring Diagram
Honeywell T3 Wiring Diagram
Honeywell T3R Wiring Diagram
Wiring
Zapojení / Električni vodovi / Vezetékezés / Okablowanie / Fire/cablare / Zapojenie
On/off boiler (230V)
Kotel s řízením On/Off (230 V)
Uključen/isključen bojler (230 V)
Kazán bekötés Be-/Ki (230V)
Kocioł włącz/wyłącz (230 V)
Cazan on/off (230 V)
Kotol s riadením ZAP/VYP (230V)
2-Port Zone Valve
Dvoucestný zónový ventil
Dvosmjerni ventil zone
Kétjáratú zónaszelep
2-drogowy Zawór Strefowy
Vana de zonă cu 2 cai
Dvojcestný zónový ventil
Combi boiler
Kombinovaný kotel
Kombinirani kotao
Kombikazán
Kocioł dwufunkcyjny
Cazan Combi (incalzire + acm)
Kombinovaný kotol
Parameters
Parameters / Paramètres / Parameter /
Parametri / Parámetros / Parâmetros
Honeywell T3R WIRELESS PROGRAMMABLE THERMOSTAT
honeywell home t3r thermostat instructions
honeywell home t3r thermostat manual
honeywell t3 manual
honeywell t3 programmable thermostat manual
honeywell t3 thermostat wiring diagram
honeywell t3r wireless thermostat manual
honeywell t3r thermostat troubleshooting
honeywell t3r thermostat user guide
honeywell wireless thermostat t3r instructions
honeywell t3r user manual
honeywell home t3h700rf0096 manual
honeywell home thermostat t3h700rf0096 manual
honeywell t3 wiring diagram
honeywell home t3 manual
honeywell t3 thermostat user guide
honeywell home t3 thermostat manual
honeywell thermostat t3 manual
honeywell home t3 programmable thermostat manual
honeywell t3r thermostat installation manual
honeywell t3r thermostat manual
honeywell t3 programmable thermostat installation manual
t3 honeywell thermostat manual
honeywell t3r thermostat reset
honeywell home thermostat t3r instructions
honeywell t3r instructions
honeywell t3 thermostat installation manual
honeywell thermostat t3r manual
honeywell home thermostat t3 manual
honeywell t3 wireless thermostat manual
honeywell t3 pro series thermostat manual
honeywell t3 thermostat reset
honeywell t3 programmable thermostat wiring diagram
t3r thermostat instructions
t3 programmable thermostat manual
honeywell t3r thermostat instructions
honeywell t3 instructions
honeywell t3h700rf0096 thermostat manual
honeywell t3 thermostat instructions
honeywell t3 user guide
honeywell t3 user manual
t3 t3r t3m programmable thermostat
honeywell home t3 thermostat instructions
honeywell t3r thermostat user manual
honeywell t3 wireless user manual
honeywell home thermostat t3 instructions
honeywell home t3 t3r t3m programmable thermostat
honeywell home thermostat t3h700rf0096 instructions
honeywell home t3 7 day programmable thermostat instructions
honeywell home t3 instructions
honeywell thermostat t3 wiring diagram
honeywell t3r thermostat programming
manual honeywell t3r
honeywell t3 programmable thermostat instructions
honeywell thermostat t3 instructions
honeywell home t3h110a0066 programmable thermostat instructions
honeywell t3 thermostat programming
honeywell t3r user guide
honeywell home t3 user guide
honeywell t3m manual